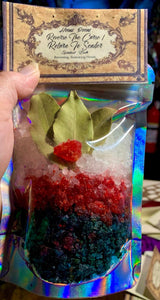 Hocus Pocus Reverse To Curse/Return To Sender Spiritual Bath - Reversing, Removing Hexes.
If you feel someone's put the Whammy on you, it's time to vex the hex! With two ways to Reverse the Curse:
1) Return To Sender Method: Knowing someone has hexed you & returning it. You'll need to grab a Reversing Candle, Evil Eye Votive, &/or Protection Votive & our Banishing & Purification Incense to burn while you bathe. Surround yourself with protective stones like: Quartz, Black Tourmaline, Onyx, & Hematite.
2) Reverse The Curse Method: Transform negative energy into positive to bring you luck & prosperity. We recommend using our Needed Change Votive & Prosperity Votive & burning Horn of Plenty Incense while you bathe. Surround yourself with prosperity stones life: Aventurine, Jade, Kambaba Jasper, Pyrite, Garnet, or Citrine.
Complete instructions included.
Size: 1 package, 8-9 oz, enough Spiritual Bath for approximately four to five baths
DO NOT INGEST/CONSUME THIS PRODUCT! KEEP AWAY FROM CHILDREN & PETS.