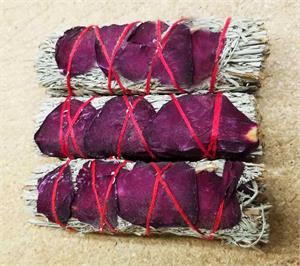 Desert Sage & Rose Smudge Bundle - Desert Sage, also known as Grandmother Sage, is a Smudging Sage that features a softer & gentler smoke (in relation to White Sage) to work for your various purification purposes. It has energy that is best suited for cleansing & clearing negative energies. Best of all.... this Sage grows easily & replenishes itself very quickly. Making it a great alternative to the over-harvested & slower growing White "Grandfather" Sage.
This bundle also has the added benefit of Roses wrapped within it. Making it great for cleansing spaces & encouraging deeper connections related to love & relationships.
*A NOTE ON SAGING RESPECTFULLY - Burning sage is sacred & deserves our respect. It's something we should always do with intention, reverence, & deep gratitude to those who did it before us.