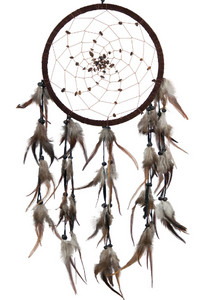 Tiger Eye Dream Catcher - Sweet Dreams are made of these! This beautiful Dream Catcher will inspire dreams of courage, confidence, & dreams of success. This Dream Catcher has Tiger Eye Gemstone weaved inside the delicate woven spiral pattern.
Dream Catchers are an ancient spiritual tool used to protect the sleeper from bad dreams. A Dream Catcher should be hung over the place you sleep & where the morning light can hit it. All dreams will then filter through the dream catcher, where good dreams will glide down the feathers to the sleeper below & bad dreams will get caught in the web & be destroyed by the first beam of morning light.

Tiger Eye Tumbled Properties - Tiger Eye is a powerful stone that encourages confidence, courage, & strength. Tiger Eye is a protective stone that helps you feel more balanced, centered, & optimistic. It feels like the first bright warm sunny day, after a long winter. Along with the feelings of hope & courage, Tiger Eye enables you to find solutions to your problems & stressful situations. It puts a beacon of light onto the problem, illuminating it, then helps you discover the right course of action & doing so with optimism. Tiger Eye is a great stone for anyone stuck in a creative rut. Carry a piece or gaze into one in order to bridge the gap & be more creative. Tiger Eye has been traditionally used as a talisman to ward, protect, & break curses & bad luck. It protects from the Evil Eye. It's one of the best stones for people who travel, putting it's protective aura around a person. Tiger Eye can also be used to attract abundance & prosperity. Physically Tiger Eye helps with all ailments of the stomach! It's one of our goto stones for an upset stomach, Irritable Bowel Disorders, Crohn's Disease, & ulcers. Tiger Eye is also very effective at reducing cravings & desire for addictive drugs. It also helps with issues related to the lungs & breathing.

Chakra: Solar Plexus
Astrological Sign: Leo, Capricorn
Size: Length 25" inch, Diameter 8.5"
PLEASE NOTE: Every Dream Catcher is unique & styles may vary slightly between each Dream Catcher.