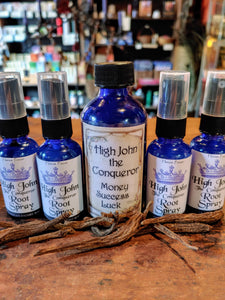 Hocus Pocus High John The Conqueror Root Spray - Our World Famous Oil is now in a convenient spray form, PLUS each spray bottle contains High John The Conqueror Root inside it! High John is a highly prized & most famed Root in Hoodoo & Magick. High John Root brings luck, helps win court cases, helps you get employment/jobs, etc.. Simply put - they attract success to you & your life!
When your spray runs out, be sure to either bring it back into the shop to have more spray made with it or you can unscrew the top & put your highly charged Root into a mojo bag. High John Roots get stronger & more powerful with age. So continuing to work the same Root is a powerful technique to utilize with High John Roots.
Size: 2 oz glass cobal blue bottle with misting spray top
DO NOT INGEST/CONSUME THIS PRODUCT! Keep your High John Spray away from extreme temperatures & sunlight. Always shake your water/sprays prior to using them 
This is a Curio Item.