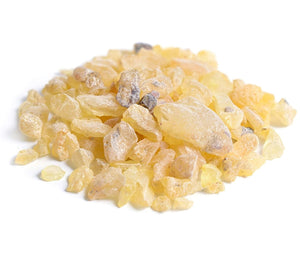 PLEASE NOTE: This item is available for purchase in a half ounce & full ounce size. The half ounce price is $4.88 & the full ounce price is $9.75. Since this item is a resin it tends to be very heavy.
Copal Resin - dried, 1/2 oz or 1oz
Copal is tree resin identified with the aromatic resins used by the cultures of pre-Columbian Meso-America as ceremonially burned incense & other purposes
The Maya & Latino people used Copal on coals for spiritual cleansing. Copal has been used in ancient Maya & Aztec ceremonies as a ritual offering to the Gods. The secondary & less well-known use of Copal is as medicine.
The crisp, piney, & citrus-like scent of Copal is traditionally burned for spiritual cleansing, to clear negative energy, to purify, & to protect. It's used to create sacred spaces, to invite creativity, abundance, & positive loving energy. Copal also helps our connection to the spirit realm.
The uplifting positivity of Copal smoke is believed to open the Crown Chakra. It works to rid the mind of anxiety & negative thoughts. Copal clears energy blocks that cause stagnation. It keeps your energy flowing clean. Copal is useful in combating the everyday blues, as it helps to brighten your aura & leave you feeling emotionally lighter.
NOTE: If burned as an incense or offering you will need charcoal tablets & a fire proof container/metal incense burner. Grab some Charcoal HERE.
DO NOT INGEST/CONSUME THIS PRODUCT! NEVER LEAVE LIGHT INCENSE/CHARCOAL UNATTENDED.