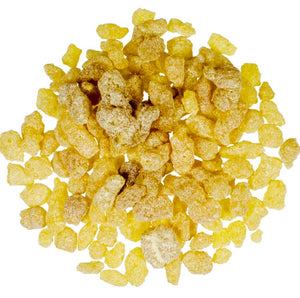 Frankincense Resin - dried, 1 oz
Frankincense is a resin harvested from the Boswellia tree found in India, North Africa, & Southern Arabia. Frankincense's high vibrational qualities assist in removing negative energy, providing protection & elevating spiritual awareness. It can lift moods, ease anxiety, & stress. It's been used by the ancient Greeks, Jewish, Islamic, & Christian in their rituals & ceremonies. In Ancient Egypt, ashes of frankincense were used as eyeliner & the resin was tucked inside of tombs of Queens & Pharaohs. It was also a staple in ancient Chinese medicine.
Frankincense incense symbolizes prayers lofting into the heavens on the smoke. Our ancestors of old knew the real Magick in Frankincense was the psychoactive mind altering tetrahydrocannabinol it produces when heated on a charcoal. This allows us to enter into the deep Theta waves of Gnosis or trance.
NOTE: If burned as an incense or offering you will need charcoal tablets & a fire proof container/metal incense burner. Grab some Charcoal HERE.
DO NOT INGEST/CONSUME THIS PRODUCT! NEVER LEAVE LIGHT INCENSE/CHARCOAL UNATTENDED.