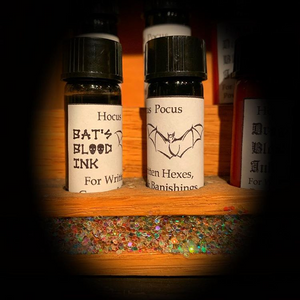 Hocus Pocus Bat's Blood Ink - For written Curses, Hexings, & Banishings.
We craft our hand made inks according to appropriate planetary & lunar phases. Each ink has a multitude of herbs, resins, berries, charred newspaper, etc to create authentic real occult inks. Most occult ink offered for sale is nothing but coloring in alcohol. Don't be fooled!
Quills & Parchment are also available.
Size: 1 dram vial
This is a Curio Item.
NO ACTUAL BLOOD IS USED IN THIS INK OR ANY OF OUR PRODUCTS.