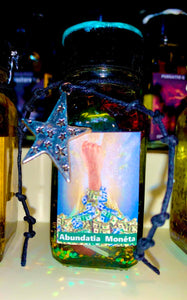 HOCUS POCUS ABUNDANTIA MONĒT OIL
/a.bun'dan.ti.a/ - Your one stop for ALL things related to prosperity, abundance, & wealth workings! Use this Oil to anoint your candles, yourself, your wallet, magickal talismans/charms, mojo bags, cash register, hands when gambling, in a ritual bath, etc..
Combine this with one of our Magickal Votive Candles like Money Draw, Witch's Purse, or Prosperity for an extra potent oomph of wealth energy into your life!
Size: 1 oz bottle
DO NOT INGEST/CONSUME THIS PRODUCT! KEEP OUT OF REACH OF CHILDREN & PETS. SOLD AS A CURIO PRODUCT.