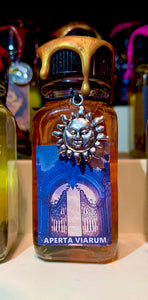 HOCUS POCUS APERTA VIARUM OIL
/a'per.ta/ /vi'a.rum/ - Open Roads to success & remove obstacles. Made with real Abre Camino ritually grown in our temple. Use facing South. Anoint oneself. spell candles, copies of papers, figure candles, etc..
Combine this with one of our Stone & Herb Pillar Candles, our Road Opener Incense, or our Road Opener Spiritual Bath for an extra potent oomph of Road Opening energy for your life!
Size: 1 oz bottle
DO NOT INGEST/CONSUME THIS PRODUCT! KEEP OUT OF REACH OF CHILDREN & PETS. SOLD AS A CURIO PRODUCT.