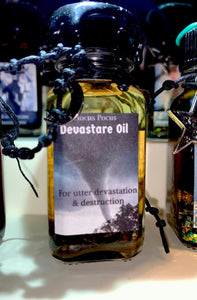 HOCUS POCUS DEVASTARE OIL
/de.va'sta.re/ - Oil for utter Devastation & Destruction. Whether you require this action on a person, situation, or some part of yourself, you need powerful energies to work with & assist you in directing your focus on annihilation of your target. Devastare Oil is the ultimate Oil to use for these times! This Oil was conjured in the energies of abolition, elimination, and eradication. A Complete breakdown of what is.
Use this Oil to anoint candles, figure candles, dolls/effigies, photos, spell jars, hexing & cursing and places of contact with your target. Use with any rituals were destructive forces are required.
PLEASE NOTE: Use with caution & discernment!
Combine this Oil with our Banishing Pillar Candle, Mars Pillar Candle, Goofer Dust, War Water, Hexing Incense, or Dark Arts Incense, 
Size: 1 oz bottle
DO NOT INGEST/CONSUME THIS PRODUCT! KEEP OUT OF REACH OF CHILDREN & PETS. SOLD AS A CURIO ITEM.