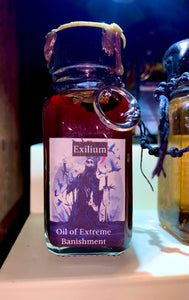 HOCUS POCUS EXILIUM OIL
/ekˈsi.li.um/ - Oil of Extreme Banishment. To remove someone or something from your life. Deportation, dismissal, removal. When something has GOT to go!
You can use this in whatever creative ways you can conjure up - depending on what you require extreme banishment of. Anoint areas where the target will come into contact with it - ie: a dab on clothing, desks, books, walking paths, etc.. Use it to anoint candles, photos, effigies/dolls, paperwork, or in rituals of extreme banishment.

PLEASE NOTE: Use with caution & discerment.
Combine this with one of our Stone & Herb Pillar Candles, Needed Change Magickal Votive, Sacred Sage Magickal Votive, or Dragon's Blood Magickal Votive, to create a full spell/ritual of Banishment. If you need somebody to physically move - add our Hot Food Powder to boost your effectiveness. Add some of our Hexing Incense or Dark Arts Incense to help set the ritualistic mood for using this Oil.
Size: 1 oz bottle
DO NOT INGEST/CONSUME THIS PRODUCT! KEEP OUT OF REACH OF CHILDREN & PETS. SOLD AS A CURIO ITEM.