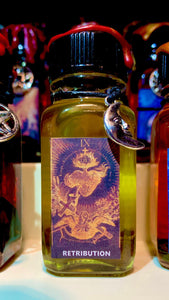 HOCUS POCUS RETRIBUTION OIL
/ˌretrəˈbyo͞oSH(ə)n/ - 1. punishment inflicted on someone as vengeance for a wrong or criminal act. Means : giving back what's due. Punishment. Latin for giving back what's due. Serving justice to even the scales.
Revenge responds to any harms or insults; while RETRIBUTION responds solely to moral wrongs. Revenge involves a desire to see the wrongdoer suffer; RETRIBUTION seeks justice, whatever that may be. Anoint candles in Retribution rituals.
Anoint all candles especially 7 day candles that can be burnt continuously or while you are at home until retribution is served. Anoint effigies/dolls, photos, spell jars, copies of legal documents etc.. Use in all spells for Retribution Magick!
Combine this with our Justice PIllar Candle, Jupiter Candles, Mars Pillar Candle, Saturn Pillar Candle, Reverse Spell Pillar Candle, Separation Pillar Candle, &/or our Truth & Justice Magickal Votive &/or our Dark Arts Incense, Hexing Incense.
Size: 1 oz bottle
DO NOT INGEST/CONSUME THIS PRODUCT! KEEP OUT OF REACH OF CHILDREN & PETS. SOLD AS A CURIO ITEM.