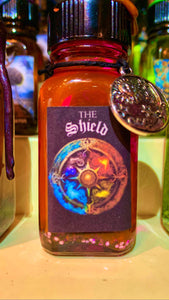 HOCUS POCUS THE SHIELD OIL
Specifically formulated Oil to provide an energetic shield of protection. Use this Oil whenever you need to strengthen, replenish, & reinforce your Aura. Anoint all 7 Chakras before leaving the house or going into a stressful environment. This is a MUST HAVE Oil for anyone who works or lives in a high stress environment or for anyone who is an Energy/Body Worker, Psychic/Tarot Reader, Paranormal Investigator, Occultist, etc.. 
Combine this with one of our Magickal Votive Candles like Protection, Spiritual Cleansing, or Dragon's Blood or our Shield Magickal Bath for an extra potent Iron Fortress for your Energy Field!
Size: 1 oz bottle
DO NOT INGEST/CONSUME THIS PRODUCT! KEEP OUT OF REACH OF CHILDREN & PETS. SOLD AS A CURIO PRODUCT.