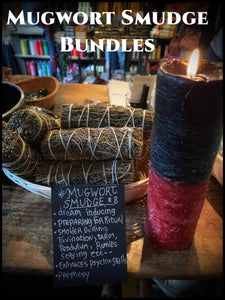 Mugwort Smudge Bundle - Powerful bundle of straight Mugwort. Mugwort is also known as "dream weed" for its unique ability to stimulate dreams.
Mugwort is associated with divination & dreaming. To bring about prophecy and divinatory success, burn at the area in which you are performing divination rituals.
Mugwort Smudge incredible to smolder prior & during any types of ritual to alter your consciousness into a state of gnosis. 
Smolder directly before retiring to enhance dream work.
Size: 4" inches
*A NOTE ON SAGING RESPECTFULLY - Burning sage is sacred & deserves our respect. It's something we should always do with intention, reverence, & deep gratitude to those who did it before us.