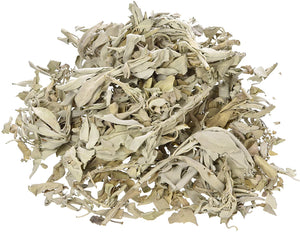 White Sage Bulk Loose (1oz) - White Sage is known as "Grandfather Sage" & is best used for protection. It carries a projective vibration to it. White Sage has great properties for removing negativity, cleansing, & protection. A small amount can & should be used. A leaf or two is all you usually need. Do not squander this ancient medicine!
*A NOTE ON SAGING RESPECTFULLY - Burning sage is sacred & deserves our respect. It's something we should always do with intention, reverence, & deep gratitude to those who did it before us.
**A NOTE ON WHITE SAGE - White Sage is in such high demand that it is quickly becoming unsustainable on farms & becoming endangered from unscrupulous people who are "wild crafting" bundles to an unsustainable point. This upsets entire ecosystems in the locations that White Sage grows.
At Hocus Pocus, we are dedicated to offering herbs that are sustainable & we will not contribute to Earth's medicines becoming endangered. For this reason we have decided to embark on growing our own Sage! We will be farming different types of Sages & Smudging plants that are indigenous to our location & land.
You will start to see varieties of different Smudge bundles available from us. There are many other choices for Smudging, not only White Sage.
Other options for Smudging include Cedar, Lavender, etc.. In honor of our Native American predecessors &  respect for our planet & ecosystems, we hope you will join us & support us in enjoying new types of sages & other plants that are great for smudging. Plants that support our ecosystems & give White Sage a chance to replenish itself. The White Sage we currently have is from ethically grown farms. But now is the time that we all must adjust & switch over to plentiful alternatives. Native Americans traditionally used many different plants for Smudging depending on the energies they needed & White Sage was often burnt with only one leaf! Your bundle of White Sage should last you for a very long time. Burn it with respect & use it sparingly.