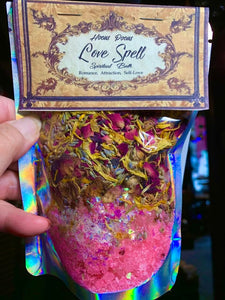 Hocus Pocus Love Spell Spiritual Bath - For Romance, Attraction, & Self-Love.
Use a love ritual bath when:

You are single and looking for love
You are single and want to foster more self-love & healing.
You are in a relationship that has lost its spark
You are in a healthy, loving relationship & want to keep it that way.
On a Friday of a New or Waxing Moon, bathe by candlelight. We recommend burning our Love's Enchantment Votive & our Love Spell Incense to intensify your Ritual. Surround yourself with crystals of Love: Rose Quartz, Rhodonite, Aventurine , Fire Agate, Garnet, Rhodochrosite, Pink Tourmaline, Ruby, or Carnelian. Place 2-3 tsp of Love Spell into your water.
Complete instructions included.
Size: 1 package, 8-9 oz, enough Spiritual Bath for approximately four to five baths
DO NOT INGEST/CONSUME THIS PRODUCT! KEEP AWAY FROM CHILDREN & PETS.