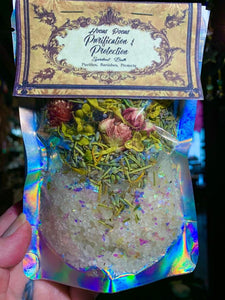 Hocus Pocus Purification & Protection Spiritual Bath - Purifies, Banishes, & Protects.
This Spiritual Bath Purifies & Protects you from physical & negative grime that builds up & causes Chaos & bad luck. During the New, Waxing, or Full Moon, bathe by candlelight. We recommend burning our Protection Votive & Spiritual Cleansing Votive & our Protection & Wardinng Incense to intensify your Ritual. You can surround your tub with crystals for protection Quartz Crystals, Black Tourmaline, Jet, Hematite, or any other Protective stones. Place 2-3 tsp of Purification & Protection into your water.
Complete instructions included.
Size: 1 package, 8-9 oz, enough Spiritual Bath for approximately four to five baths
DO NOT INGEST/CONSUME THIS PRODUCT! KEEP AWAY FROM CHILDREN & PETS.