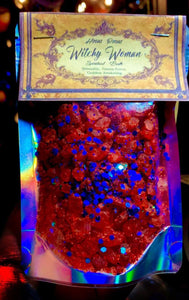 Hocus Pocus Witchy Woman Spiritual Bath - They say there's a witch in every woman. Light candles, relax & rejuvenate in this Bewitching, Enchanting Brew. Let the Universal feminine energy fill you with power & sensuality. Use during the full moon (3 days before, during or after) to intensify this bath's power. In every witch there lives a seductress. Put a little Magick in your bag of seduction Mojo. If you've been feeling less than sexy, tune up your feminine prowess with this empowering soak. Be the goddess! Walk in your sensual power! Be a triple threat with the Witchy Woman trifecta of oil, bath & incense! Use once a month, or more often if required. Dry with a clean towel, put on clean clothing.
Sitting quietly with a candle & meditating for 10 minutes afterward will allow the energy to settle in where it is required in your body. You can power up any time in between monthly baths with the Witchy Woman Oil. You can surround your bath with any or all of the following gemstone to enhance the power: Garnet, Carnelian, Rose Quartz, Moonstone. & Fire Agate.
Complete instructions included.
Size: 1 package, 8-9 oz, enough Spiritual Bath for approximately four to five baths
DO NOT INGEST/CONSUME THIS PRODUCT! KEEP AWAY FROM CHILDREN & PETS.