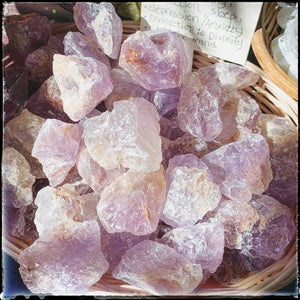 Amethyst Rough - Amethyst is such a strong Crystal for your personal needs & magickal collection. It promotes protection & clearing of the Aura on all layers (including the Etheric, Emotional, Mental-Astral, & Spiritual Aura). It brings about a deeper connection with your spiritual needs, connecting you with Spirit Guides, the Angelic Realm, & your own Higher Self. It allows you to awaken your intuition, psychic abilities, & spiritual wisdom by gently opening up your Third Eye & Crown Chakra. Physically it helps you clear headaches, migraines, pain, addiction, depression, anxiety, nightmares, & insomnia. It helps you to reach deeper states of relaxation, trance, & meditation.
Amethyst is the goto stone for assisting one to recover from the death/transition of a loved one. It does so by absorbing the pain, sadness, emotional trauma, & physical longing into it's crystaline structure. It enables messages from the other side to be brought to you when you are ready - making it a conduit for communication with Discarnate or Necromancy. Amethyst can also be very effective in assisting with understanding & dealing with the fear of death/dying.
When used for depression & death/transition work - make sure you cleanse your Crystal with water, moonlight, sound baths (via prayer bowls or toning music), sage/cedar, sea salt soaks, Reiki-like energy work, or by using another Crystal to clear it like Citrine or Selenite.
Crystal & Gemstones In The Rough: Before a lot of Gemstones, Crystals, & Minerals are sold in shops a Lapidary Specialist will use industrial size rock tumblers to polish the stones into a tumbled form. Prior to that, the unaltered gemstone is in a rough or raw formation. Some individuals prefer this to the polished/tumbled version. They feel that raw/rough Gemstones/Crystals have not been overworked or over processed - allowing them to exist in a more natural & pure state. Many rough/raw Crystals/Gems are basically sold just as they are taken from the ground. Rough or Raw Gemstones make excellent Altar Pieces & Meditation stones. Raw/Rough versions of these Crystals/Gems are also usually a little more expensive.
Chakra: 3rd Eye & Crown Chakra
Astrology Sign: Pisces, Virgo, Aquarius, Capricorn
Approx Size: 1.5" to 2" inch
Please Note: color & size vary among individual stone