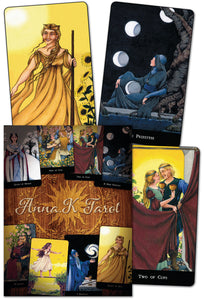 Anna.K Tarot by Anna K
(includes instruction booklet)
Saturated with emotion, drama, and powerful stories, the Anna K Tarot is an easy-to-use, intuitive tool for self-discovery. See yourself in these gorgeously rendered scenes that emphasize the human experience and stay true to the Rider-Waite tradition—with fewer distracting symbols. Mirroring the many aspects of Self, this unique and beautiful deck will help you look lovingly inside your heart and unmask true motivations, fears, and potential. The companion guide offers everything you need to begin your journey. 
Size: 78 cards, 6" x 8" x 2" inches