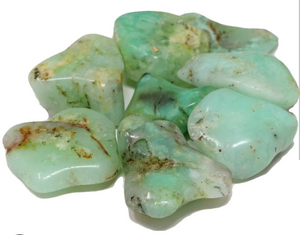 Chrysoprase Tumbled - Chrysoprase is a stone of grace & compassion. It facilitates deeper states of meditation & relaxation.
Use Chrysoprase to facilitate acceptance of oneself & others. Chrysoprase is helpful for bringing hope into dire situations, & is excellent for breaking negative cycles. Chrysoprase opens & activates the Heart Chakra, Carrying this stone can be beneficial for those needing to release fear & bitterness.
We highly recommend using Chrysoprase during periods of loss, grieving, & deep sadness! It's our go-to stone that feels like a balm of gentle healing energy. 
These Chrysoprase are small, but powerful allies!
Chakra: Heart
Size: .5" inch
Please Note: color & size vary among individual stone