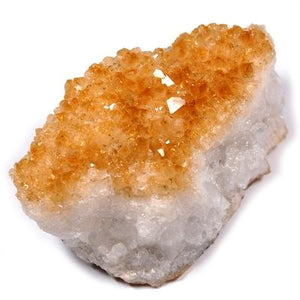 Citrine Clusters - Citrine is the stone of abundance & prosperity. Place a stone inside your purse, cash drawer, business, workspace, etc. to increase the flow of abundance, prosperity & good fortune. Use Citrine in spells & rituals related to manifestation. Citrine brings about new beginnings, while providing cleansing energy into the Auric field. In fact Citrine can provide healing & cleansing of all the Chakras in the body! Citrine enhances creativity, ideas, & promotes self-esteem. This is a great stone to help release oneself from their depression & anxiety. Physically Citrine helps with weight loss & fatigue.
PLEASE NOTE: The stereotypical bright orange color that is sold everywhere as Citrine is enhanced via heat treatment of Amethyst. If you require pure 100% natural Citrine Gemstones please send us a message & we will be happy to help you to acquire the pure natural variety.
Crystal Clusters: Crystal Clusters are comprised of many different points of the same gemstone/crystal. They are usually contained in a Matrix of an adjacent gemstone or mineral that grew alongside the Crystals that form upon them. These crystals points end up working together as one energy - often creating a highly powerful energy conduit. Crystal Clusters are great pieces to work with during meditation, to lay upon the body, or to work with on an Altar.
Chakra: Root, Sacral, Solar Plexus
Astrology Sign: Aries, Gemini, Leo, Libra
Size: 2"-3" inches
Please Note: Each & every Crystal Cluster is unique. These pieces can be fragile & we will take EVERY precaution to wrap it safely before mailing. Cluster color & size will vary among each piece. Upon ordering, a Crystal Cluster will be intuitively picked for you.