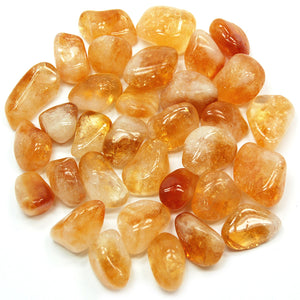 Citrine Tumbled - Citrine is the stone of abundance & prosperity. Place a stone inside your purse, cash drawer, business, workspace, etc. to increase the flow of abundance, prosperity & good fortune. Use Citrine in spells & rituals related to manifestation. Citrine brings about new beginnings, while providing cleansing energy into the Auric field. In fact Citrine can provide healing & cleansing of all the Chakras in the body! Citrine enhances creativity, ideas, & promotes self-esteem. This is a great stone to help release oneself from their depression & anxiety. Physically Citrine helps with weight loss & fatigue. Heat treated Citrine.
Chakra: Root, Sacral, Solar Plexus
Astrology Sign: Aries, Gemini, Leo, Libra
Size: .5" to .75" inch
PLEASE NOTE: The stereotypical bright orange color that is sold everywhere as Citrine is enhanced via heat treatment of Amethyst. If you require pure 100% natural Citrine Gemstones please send us a message & we will be happy to help you to acquire the pure natural variety.
Please Note: heat treated; color & size vary among individual stone