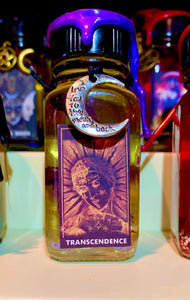 HOCUS POCUS TRANSCENDENCE OIL
/trænˈsen.dəns/ - Experience that surpasses normal limits, or ability. This oil will elevate your personal vibration level so high & keeps you vibrating at a higher rate for 12 to 24 hours. Its amazing Blue Lotus absolute & Rose Di Mei absolute (plus other pure essential oils) will awaken your 3rd Eye to a new level & opens your Crown Chakra so that you can feel your connection to divinity . Because of its amazingly high vibration, it will help Elevate your mood & increase your Psychic Development & Spiritual Growth. It raises your vibratory rate above the turmoil, trouble & daily, aggravations in life. It helps give you a calm, peaceful, amazing feeling.
Anoint all 7 Chakras, but especially the 3rd Eye & the Crown Chakra. Also place on your body where you will be able to inhale it - ie: neck, wrists, etc.. Dress candles, use in oil diffusers, anoint your magickal tools & altar pieces. This Oil is very sacred. Use it with conscious awareness of its grace!
Combine this Oil with our All Seeing Eye Spiritual Bath, Psychic Ability Pillar Candle, Third Eye Mystic Myst Spray, Astral Travel Incense to intensify your work with this Amazing Oil, 
Size: 1 oz bottle
DO NOT INGEST/CONSUME THIS PRODUCT! KEEP OUT OF REACH OF CHILDREN & PETS. SOLD AS A CURIO PRODUCT.