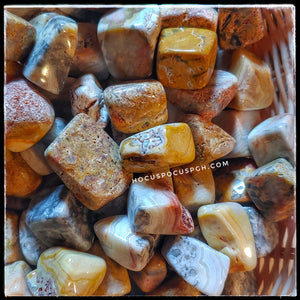 Crazy Lace Agate Tumbled - The extraordinary Crazy Lace Agate is often called the stone of laughter & happiness. This balancing & protective stone helps ward off the "evil eye". Crazy Lace brings joy & absorbs emotional pain.
Crazy Lace Agate aids in recovery from physical &/or physical fatigue & exhaustion. It harmonizes Yin & Yang energies within your body. Crazy Lace enhances emotional, intellectual, & physical energies and promotes overall vitality.
Aside from the physical, mental, & emotional benefits of crazy lace agate, the gem is believed to help its bearer rid themselves of unwanted attachments that no longer serve them. Excellent stone to use during "Cord Cuttings". It creates an energetic barrier that helps you processes emotional pain & past suffering. Crazy Lace also encourages clear decision making & enhances creativity.
Chakra: 3rd Eye
Approx Size: .75" to 1" inch
Please Note: color & size vary among individual stone