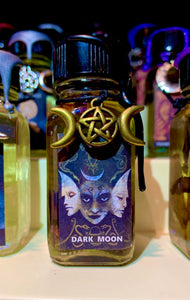 HOCUS POCUS DARK MOON OIL
The 2nd of the two major phases of the Moon. Use Dark Moon to reach your full power by embracing your dark/shadow self. Use this aromatic blend upon yourself, add a splash to your bath water, anoint candles or magickal tools, place in an oil diffuser to use while you write in your Shadow Journal or perform Divination.
Size: 1 oz bottle
DO NOT INGEST/CONSUME THIS PRODUCT! KEEP OUT OF REACH OF CHILDREN & PETS. SOLD AS A CURIO PRODUCT.