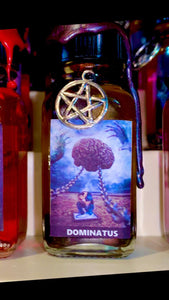 HOCUS POCUS DOMINATUS OIL
/do.mi'na.tus/ - Cause another to bend to your will. Gain discipline over unwanted habits. Cultivate self-restraint. Subjugate competition. Anoint self, candles, dolls/effigies, etc.. Apply where the target will contact it. Dab petitions, talismans, amulets, or roots.
Combine this with one of our Stone & Herb PIllar Candles for an increased energetic combination of your requirements! Add some of our Command & Control Incense, Hexing Incense or Dark Arts Incense to help set the ritualistic mood for using this Oil.
Size: 1 oz bottle
DO NOT INGEST/CONSUME THIS PRODUCT! KEEP OUT OF REACH OF CHILDREN & PETS. SOLD AS A CURIO ITEM.