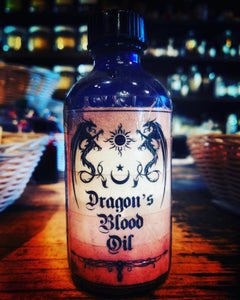 Hocus Pocus Signature Dragon's Blood Oil - Authentic Dragon's Blood Oil! We ritualistically cook it down ourselves then scent it with Myrh & Cinnamon essential oils. Dragon's Blood is used for many reasons, one of which being that it actually look like how you might expect "Dragon's Blood" to appear. The resin was named after its red appearance that when heated or used as incense, bubbles & boils red like blood, & was accompanied by a common belief that Dragon's Blood actually came from the blood of Elephants & Dragons who had died in combat.
Dragon's Blood is a bright red resin that is produced by several different species of trees that's use has been documented as far back as the 15th century. One type of Dragon's Blood tree produces a berry about the size of a cherry & when ripe, they are covered with a reddish, resinous substance. Other types of Dragon's Blood trees produce Dragon's Blood resin directly through their sap. These trees have been known to grow in the Canary Islands, Morocco, Sumatra, & other locations. Dragon's Blood made its way into Europe largely by the Incense Road. Ritually,  we use Dragon's Blood for its effective protection ability & to add strength & fearlessness in our undertakings. For traditional real hand made Dragon's Blood Oil, stop by Hocus Pocus or order online today. We make it ourselves, so that you can be confident of getting TRUE dragons's Blood Oil. We never outsource our ritual supplies. Everything we carry is made by us so you know its the real deal!
Size: 2 dram bottle
NOTE: Due to it's dark reddish nature, it will stain clothing & other materials if used as an anointing oil. Please use discretion if used for that purpose.
DO NOT INGEST/CONSUME THIS PRODUCT! KEEP OUT OF REACH OF CHILDREN & PETS.