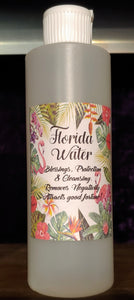 Hocus Pocus Florida Water - Florida Water (aka Floral Water) is a high vibrational cleansing water created from the very essence of Flowers! Not only does it smell amazing, it helps change the energy on whatever it is used with/on. It's traditionally used for purification, protection, cleansing, blessings, offerings, & to bring good luck. Use it anytime & anywhere good vibrations are required. Florida Water can be used as a bath by adding a capful to your water, as a floor wash by adding some to a bucket of water, or even as a perfume/body oil.
Like almost all of our products - we actually hand make our very own Florida Water in small batches with pure essential oils, real flowers, & loving intent. This isn't the cheap mass produced Florida Water created with synthetic oils.
Also available as a highly concentrated 1 oz spray bottle. Grab the spray formulation HERE.
Size: 8 oz frosted plastic bottle with easy pour cap
DO NOT INGEST/CONSUME THIS PRODUCT! Keep your Florida Water away from extreme temperatures & sunlight. Always shake your water/sprays prior to using them.
This is a Curio Item.