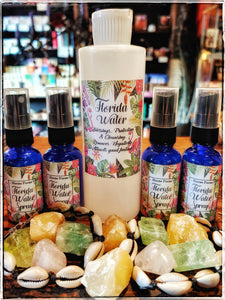 Hocus Pocus Florida Water Spray - Brand new! Our highly popular classic Florida Water now in a highly concentrated spray bottle! Like almost all of our products - we actually hand make our very own Florida Water in small batches with pure essential oils, real flowers, & loving intent. This isn't the cheap mass produced Florida Water created with synthetic oils.
Florida Water (aka Floral Water) is a high vibrational cleansing water created from the very essence of Flowers! Not only does it smell amazing, it helps change the energy on whatever it is used with/on. It's traditionally used for purification, protection, cleansing, blessings, offerings, & to bring good luck. Use it anytime & anywhere good vibrations are required. This convenient spray makes it super easy to carry with you in your purse, backpack, with your Tarot Decks to use before readings, or wherever you need a blast of joy in your life!
This spray will instantly fill your Aura & space with such an uplifting & renewed energy! We cannot express just how amazing this new item is!!!
Also available as a standard 8 oz bottle. Grab the original classic formulation HERE.
Size: 2 oz glass cobal blue bottle with misting spray top
DO NOT INGEST/CONSUME THIS PRODUCT! Keep your Florida Water away from extreme temperatures & sunlight. Always shake your water/sprays prior to using them 
This is a Curio Item.