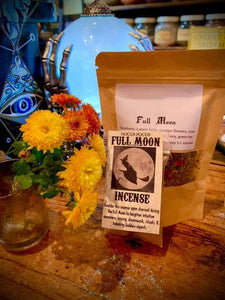 Hocus Pocus Full Moon Incense - Made one day prior to the full moon to imbibe each package with the powers of the Full Moon!
Smolder this fascinating fragrance that is as mysterious as the Moon herself. Let the perfumes of jasmine, mugwort, sandalwood, camphor, frankincense, juniper berries & rose envelope you in its enigmatic smoke. Our Full Moon Incense is formulated to heighten intuitive awareness for Scrying, Divination, Dreamwork, Ritual Power, & Goddess Workings. More Moon phase incenses to come - including: Waxing, Waning or Gibbus, & the Dark Moon.
Size: 0.7 oz
DO NOT INGEST/CONSUME THIS PRODUCT! NEVER LEAVE LIGHT INCENSE UNATTENDED.