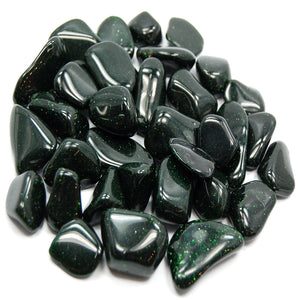 Green Goldstone Tumbled - The Stone of Ambition. Assists in attaining goals. Enhances ingenuity, ambition, & drive. Reduces tension. Very protective energy generator that can deflect unwanted energies directed towards. This stone is like staring at a shimmering velvet field of pure pleasure! Green Goldstone is very beneficial in helping one to perform distance healing work on others. This makes it a perfect gemstone to assist in those who practice Reiki or other kinds of energy work on others.
The gold flakes inside the stone are comprised of Copper. Copper is a fantastic energy transmitter & can hold a charge - making these great for programming your energy & intent into them. Along with Copper, Green Goldstone has been bonded with Cobalt &/or Manganese.
Pictures DO NOT do this gemstone justice!
Please Note: Goldstone is a man-made creation, but it does have energy & properties to it.
Chakra: Root, Heart Chakra
Size: .50" to 1" inch
Please Note: color & size vary among individual stone