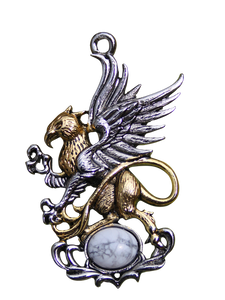 Gryffin's Egg for Arcane Ability. The mighty Gryffin is as powerful as it is cunning and guards its lair while sharpening its claws.
The Gryffin/Griffin is a legendary creature with the head and wings of an eagle, and the body, tail, and hind legs of a lion. As the eagle was considered the 'king of the birds', and the lion the 'king of the beasts', the Gryffin was perceived as a powerful & majestic creature. During the Persian Empire, the Gryffin was seen as a protector from evil, witchcraft, & slander.
Comes with a chain and secured inside a satin pouch.
Approximate size: 2" x 1.5" inches. Made of Zinc Alloy & accentuated with crystals.