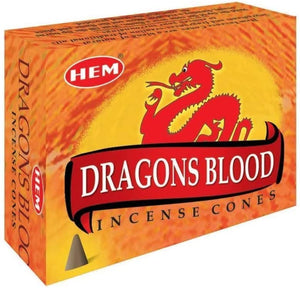 HEM Dragon's Blood Incense Cones - each pack contains 10 incense cones & metal holder. A single cone will burn between 15-20 minutes depending upon conditions. HEM is world famous for its traditional incense made from select woods, resins, florals, & fine essential oils all blended skillfully with expert care & love.
Dragon's Blood is a resin harvested from a variety of different plants. It's used for it's protective qualities, along with it's ability to cleanse the energy & vibration of a space. Often it is used to provide power & energy to spells & ritual work. Dragon's Blood is also used for it's banishing effects.
Each package contains 10 cones & a small metal plate to burn them on. Each cone burns for approximately 35 to 45 minutes depending on conditions & the scent lingers in a space for hours afterwards.