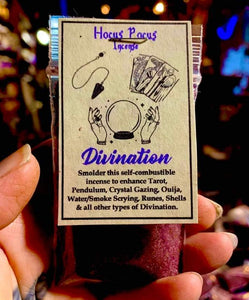 Hocus Pocus Divination Incense - Smolder this self lighting blend of Mugwort, Wormwood, Frankincnese, Dittany of Crete, Hibiscus, & Sandalwood to heighten your intuitive abilities & psychic practice. Created during Samhain season to heighten its power. Use for any style of divination: Tarot Cards, Oracle Cards, Talking Boards, Crystal Ball Gazing, Runes, Pendulums, etc.. No need for charcoal, it's self sustaining.
INSTRUCTIONS: Hocus Pocus self-made Incense is specially prepared to be burned in a fireproof bowl & does NOT require charcoal to burn. Simply place your Incense in a cone shape & light with a match/lighter. Blow out the flame & your Incense will continue to burn.
Size: 1/2 oz
DO NOT INGEST/CONSUME THIS PRODUCT! NEVER LEAVE LIGHT INCENSE UNATTENDED.