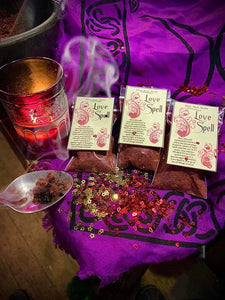 Hocus Pocus Love Spell Incense - Allow the intoxicating hypnotic smoke of Love Spell entwine you in it's sweet, sexy essence. Whether it's for a love spell working, self-love, or a special night of romance, Love Spell is your go-to for all things sensual!
INSTRUCTIONS: Hocus Pocus self-made Incense is specially prepared to be burned in a fireproof bowl & does NOT require charcoal to burn. Simply place your Incense in a cone shape & light with a match/lighter. Blow out the flame & your Incense will continue to burn.
Size: 1/2 oz
DO NOT INGEST/CONSUME THIS PRODUCT! NEVER LEAVE LIGHT INCENSE UNATTENDED.