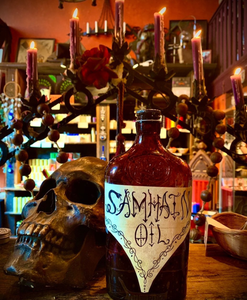 Hocus Pocus Signature Sabbat Formulas: Oils & Incense Formulations - Our custom blended Hocus Pocus Signature Sabbat Blends are conjured with the Finest Oils, Herbs, Flowers, Roots, & Resins in strict accordance with planetary & lunar cycles. Our Recipes are carefully prepared with compounds that embody the essence of each of the Eight Sabbats.
Size: 1 oz dropper bottle
DO NOT INGEST/CONSUME THIS PRODUCT!