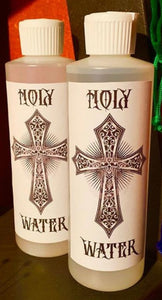 Hocus Pocus Holy Water - Holy Water is a universal healing element. It has been used throughout the ages for purifying, sanctifying, & connecting oneself to the divine.
Use when you require protection, banishment of negativity, & to rejuvenate your energy. Asperge places, magical objects, automobiles, people, add to bath, etc..  Holy Water can be used as a base for many magical recipes that require water. 
All water has memory. The molecules in water change when they are exposed to emotions & charged with intention, love, kindness, & healing. Intentions have a huge impact on the charge of water, as do emotions of hate, jealousy, & fear. Positive energy is what makes Holy Water so powerful & effective.
Holy Water can be used as a sort of "liquid smudge stick." Take a bundle of white sage, dip it in a bowl of holy water, & flick it around a space for blessings, cleansing, & protection.
Our bodies are mostly made up of water, so it has the profound power to alter our chemistry by revitalizing & refreshing the spiritual energies that make up our being. Keep Holy Water in a non-metallic container & be sure to frequently recharge it with positive vibrations.
Size: 8 oz plastic bottle with easy pour cap
This is a Curio Item.
DO NOT INGEST/CONSUME THIS PRODUCT!