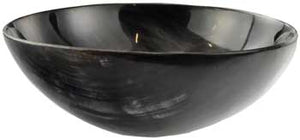 Horn Altar/Offering Bowl (large) - A beautiful Altar/Offering Bowl made from carved & polished horn. Please note that these are made from real horn and will not be perfectly round. This makes a great offering bowl or a Scrying Bowl for Water Scrying. An offering bowl can be used to hold water - acting as a symbol that represents the Element of Water upon your Altar/Practice. The Bowl is also a representation of the Goddess herself, reflective of the womb & of creation itself. You can also use these bowls to hold herbs, flowers, crystals, & other items to offer upon your Altar.
Material: Compassionately harvested Water Buffalo Horn
Size: 5 1/4" x 1 3/4"
Please Note: Each bowl is unique & different in color & appearance.