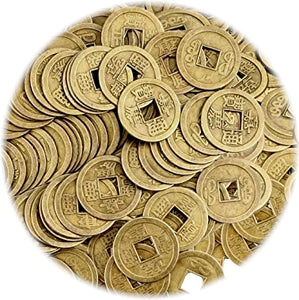 I Ching Coins - The I Ching is a ancient Divination System based around single lines (Yang) & broken lines (Yin). Six of these broken &/or straight lines stacked upon each other make up a Hexagram. A Hexagram (there are 64 Hexagrams) then determines the vibration of energy or Chi at a given moment. Each line offers a deep interpretation to the present energy & the entire Hexagram offers it's own meaning.
These coins are great for working with the I Ching or to just have around as symbols of abundance & prosperity. I Ching coins are also often used in Feng Shui. Feng Shui is a form of Chinese Geomancy that uses compass directions, the elements, & the movement of Chi energy for construction & decoration of one's home/office/building. These coins are usually wrapped in silk cord or tied into intricate patterns to alleviate poison arrows (places with deficient/destructive Chi energy) or to enhance the flow of beneficial Chi in a location.

PLEASE NOTE: You will receive 3 coins for $1.