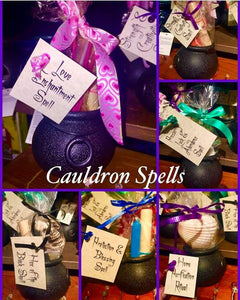 PLEASE NOTE: ALL orders requiring Magickal Apotheckary Items may require extra time to be shipped to your location, regardless of the shipping method selected. Picking Priority Shipping WILL NOT guarantee that the items arrive in a day or two to your location. There is only one person who makes these items. They are hand made & blended specifically for you, thus they require slightly extra time to be processed, blended, & shipped to you. If your situation is time sensitive & requires faster processing call us at 412.622.0113 during our normal business hours prior to placing your order to find out what our turnaround time might be regarding your items.
Hocus Pocus Cauldron Spell Kits - These amazing kits have everything you need to complete a full spell based on your specific needs & requirements. From oils to incense to shells to everything else needed. Each Kit comes with complete instructions that walk you through the entire ritual from start to finish. All Spell Kits come conveniently wrapped inside a plastic mini-cauldron to keep it contained prior to being use.
For a custom "made to order" personalized Spell Kit for your specific special requirements - you can do so at our contact form or by email HERE. After a short consultation to determine your needs, you will be directed to a custom Spell Kit purchase page to finalize your order. CONTACT US FIRST IF YOU REQUIRE A CUSTOM SPELL KIT!
Spell Kits Available...
Hex of the Black Skull Spell Kit
Home Purification Spell Kit
Love Enchantment Spell Kit
Prosperity, Luck, & Abundance Spell Kit
Protection & Blessing Spell Kit
Strength & Courage Spell Kit

PLEASE NOTE: Some Cauldron Spell Kits may take slightly longer to be shipped to you since they are made after being purchased. Please allow a few extra days for your Kit to ship.
DO NOT INGEST/CONSUME THIS PRODUCT!
This is a Curio Item. Results are not guaranteed & are greatly affected by your intentions, focus, & energy you put into the Ritual/Spell.