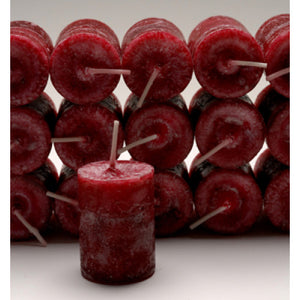 Love's Enchantment Magickal Votive Candle - An enticing burgundy color with a spicy jasmine blend of oils. Each votive burns for 10 hours. Turning thoughts into desire whether you are a long-married couple or a new love interest, ignite an electric attraction between you, creating a passionate experience. Enchant each other by awakening the sensuality hidden deep within & fill each other with the gifts of admiration & desire.
Blessing:
"We are the enchanter & the enchanted.
We move with the dance of passion."
One Magickal Votive Candle with 10 hour burn time.
Never leave a light candle unattended.