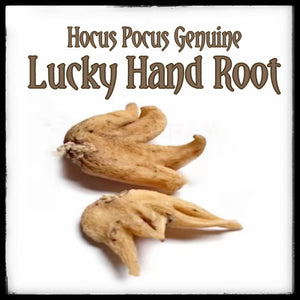 Genuine Lucky Hand Root - Lucky Hand Roots are another highly prized & famous Root in Hoodoo & Magick. Named for their unique appearance of looking like hands, these roots are actually Salep Roots from a few different species of Orchids. Lucky Hand Roots bring ultimate luck, aide games of chance (feed your Root & carry it with you while gambling). Lucky Hand Roots can assist you to switch your luck if you're having a string of unfortunate events happening within your life. They provide protection while on journeys or traveling & are even said to ward off the Evil Eye. Simply put - these powerful Roots attract success & good luck!
Grab one of our packaged Lucky Hand Roots & a bottle of our authentic High John Root Oil (made with real High John Roots & pure essential oils by our Apotheckary Masters). Then anoint your Root every Thursday to keep it charged & active. This is called "working or feeding the Root" & it's essential for activating this powerful Root & keeping it happy! This is tried & true Rootwork & Magick. Suggested uses are on the back of every package.
DON'T FORGET to purchase a vial of High John Oil to keep your Root feed/worked. We recommend feeding your Root EVERY Thursday! Pick up some High John Oil HERE.
PLEASE NOTE: Each package contains one (1) root. Each & every root is different in size & shape. Not all Lucky Hand Roots look exactly like a human hand.
This is a Curio Item.