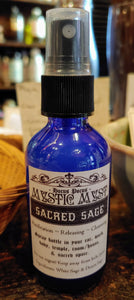 Hocus Pocus Mystic Mysts - Specially formulated sprays created with specific purposes in mind. Using the finest oils, essences, roots, herbs, & more to create each small batch of Spray. These are perfect for those times & places when/where you can't burn incense, resins, or candles - but you require their unique vibration.
Sacred Sage - Purification, Releasing, Cleansing - Made with essential oils of White Sage & Desert Sage.
Size: 2 oz glass spray bottles
DO NOT INGEST/CONSUME THIS PRODUCT!