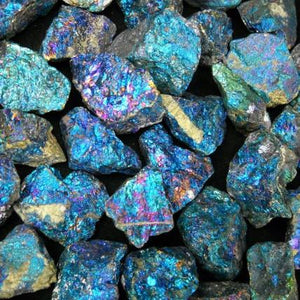 Peacock Ore Rough - Peacock Ore is the stone for finding lost objects! If you have lost something, hold your Peacock Ore in hand & it will assist you in locating your item. It is a great stone to offer as an offering to trouble-making Fae or Fairies that take objects & hide them. The bright colors entice these Beings & give them pleasure - encouraging them to stop nuisance behaviors like stealing & playing tricks on you.
Because of its ability to find lost objects, those gemstone will often disappear from your life periodically. Whenever it returns from it's journeys sit & meditate with it to receive anything messages it has gathered for you.
Peacock Ore also brings happiness & joy into your life. It's like a bright shiny rainbow after a storm. If your life feels like you've been stuck in troubled or stormy energies, adding Peacock Ore to your life will help balance the energies & provide happiness back into your Journey.
Physically Peacock Ore can help with the aches & pains associated with arthritis.
Crystal & Gemstones In The Rough: Before a lot of Gemstones, Crystals, & Minerals are sold in shops a Lapidary Specialist will use industrial size rock tumblers to polish the stones into a tumbled form. Prior to that, the unaltered gemstone is in a rough or raw formation. Some individuals prefer this to the polished/tumbled version. They feel that raw/rough Gemstones/Crystals have not been overworked or over processed - allowing them to exist in a more natural & pure state. Many rough/raw Crystals/Gems are basically sold just as they are taken from the ground. Rough or Raw Gemstones make excellent Altar Pieces & Meditation stones. Raw/Rough versions of these Crystals/Gems are also usually a little more expensive.
Chakra: All
Size: .5" to 1" inch
Please Note: color & size vary among individual stone