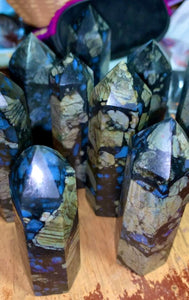 Que-Sera Jasper Towers - The extraordinary Que-Sera Jasper Stone is the most uplifting talisman to be unearthed in modern history. For the metaphysical world, it has it all, does it all, & is a stone for all…a glorious synergistic amalgamation of minerals with very high, yet very earthy vibrations rolled together in one. Blending Quartz, Feldspar, Calcite, Kaolinite, Iron, Magnetite, Leucozene, & Clinozoisite - Que-Sera soothes, energizes, rebalances, & restores. It generates an uninterruptible power supply for the system, drawing in dynamic Life Force energies from higher planes of existence to optimize health and manifest maximum well-being. Merely holding this stone lights up every cell in the body, and allows one teo store this energy for one's mental, physical, psychic, and spiritual needs. 
Aligns your true desires to become co-creator of one's future, and inspires taking risks and seizing opportune moments.
Removes the need for stress & turmoil. Calms anger & resentment. Replaces it w joy & things one wishes to do. It is a "good times only" and promotes happy, agreeable and entertaining activities. It inspires one to believe in the impossible, bringing the energy of determination to one's life, and has been known as a stone that creates heroes & stars. 
It stimulate all chakras at once, keeping physical and mental bodies fully energized & balanced. 
Carry Que-Sera to help to set boundaries & teach you to say "No".
Increase clairaudient & psychic abilities by activating neurotransmitters for optimizing the energetic circuit.
Que-Sera insists you stand in your own power, & brings a brightness to one's mood & awareness of options for one's life. 
Uplifting those who feel sorry for themselves or feel isolated & lonely.
Takes away the compulsion to give in to others, take on more than you can handle, or to revert to old habits.
Superb tool for manifesting maximum well-being.
Attunes to the Akashic Record of your soul purpose.
An intriguing stone indeed!!
Chakra: All
Please Note: color & size vary among individual stone