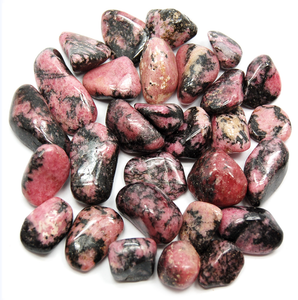 Rhodonite Tumbled - Rhodonite is a the perfect gemstone for when you need patience & balance, Rhodonite hels you feel calming energy. It assists you in balance your emotions, especially during trying times or periods of panic. 
Rhodonite is a great stone to help activate & clear away funky vibrations from the Heart Chakra. It can be used to attract love & compassion. It helps you to remember that loving yourself is an important aspect in your journey & path. 
Rhodonite is also used to help you discover your over gifts, talents, & abilities - those things that being you joy & a deep sense of satisfaction in your life.
Chakra: Heart
Size: 1.5" to 2" inch
Please Note: color & size vary among individual stone