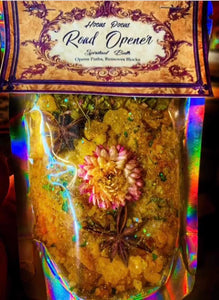 Hocus Pocus Road Opener Spiritual Bath - Removes Blocks, Opens Roads & Doors.
Ccontains genuine Abre Camino herb grown ritually in our temple.
On a Wednesday during the New or Waning Moon, bathe by candlelight. We recommend burning our Needed Change Votive or Energy & Will Votive & our Road Opener Incense to strengthen your Ritual. Surround your bath with Road Opening crystals like: Aventurine, Citrine, Clear Quartz, Amethyst, Black Obsidian, Moonstone, Kunzite, Kyanite, Malachite, & Lapis Lazuli. Place 2-3 tsp of Purification & Protection into your water.
Complete instructions included.
Size: 1 package, 8-9 oz, enough Spiritual Bath for approximately four to five baths
DO NOT INGEST/CONSUME THIS PRODUCT! KEEP AWAY FROM CHILDREN & PETS.