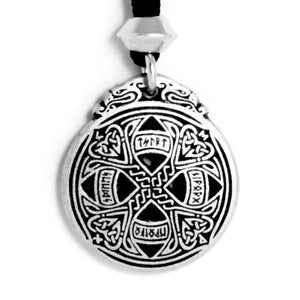 Runic Love Talisman - In an intricate design combining the best of Celtic Knotwork with the ultimate Magic of the Runic Alphabet, artist Chris Bennett has created powerful symbols to enhance Passion, bring Joy, enable Trust, & attract Love.
The main portion of the design is a stylized Celtic Cross. The circle in the center of the cross is a female symbol representing the unity of all life, Divine Light & Spiritual Radiance.
Within this circle are Magical Runes that translate as "the seeds of love grow in trust." Only in perfect trust (signified by the M rune Ehwaz), can one have perfect love (the X rune Geofu). Such love is balanced by passion (the C rune Ken), & joy (the P rune Wynn), ensuring passionate love together with friendship & harmony.
At the top of each arm of the Celtic Cross is intricate Celtic knotwork that surrounds & protects each of these Powerful Magical Runes. The interlaced lines of the knot form a continuous 'gateless' design, which has been considered a Symbol of Protection throughout time.
Wear or gift this original design to bring you True Love, Happiness, Joy, Harmony, & Passionate Love Magic.
These designs are found in various Magical Grimoires taken from private libraries. These talismans are carefully chosen for their great powers & correctly prepared using the traditional methods of great age known only to a few skilled craftsmen.
Use your Magical Planetary Talismans with Goodness & Wisdom as they are very powerful.
Necklace is 1.5" inches diameter. Made of lead-free pewter.