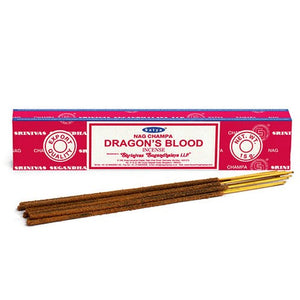 SATYA Dragon's Blood Stick Incense 15g - Created from the authentic makers of Nag Champa & SuperHits this is an amazing packaged incense for using during all of your Rituals & Spells. 
Dragon's Blood is a resin harvested from the rattan palm tree, Dracaena Draco. It's used for it's protective qualities, along with it's ability to cleanse the energy & vibration of a space. Dragon's Blood is often used to provide extra power & energy to spells & ritual work. Dragon's Blood can also be used for it's banishing effects.
Hundreds of millions of Nag Champa & SuperHit sticks have been burned since it's introduction. There's a reason this amazing incense has lasted this long & people continue to buy it in droves.
Each package contains 15g worth of sticks, which is usually around 15 sticks. Each stick burns approximately for 35 to 45 minutes depending on conditions & the scent lingers in a space for hours afterwards.